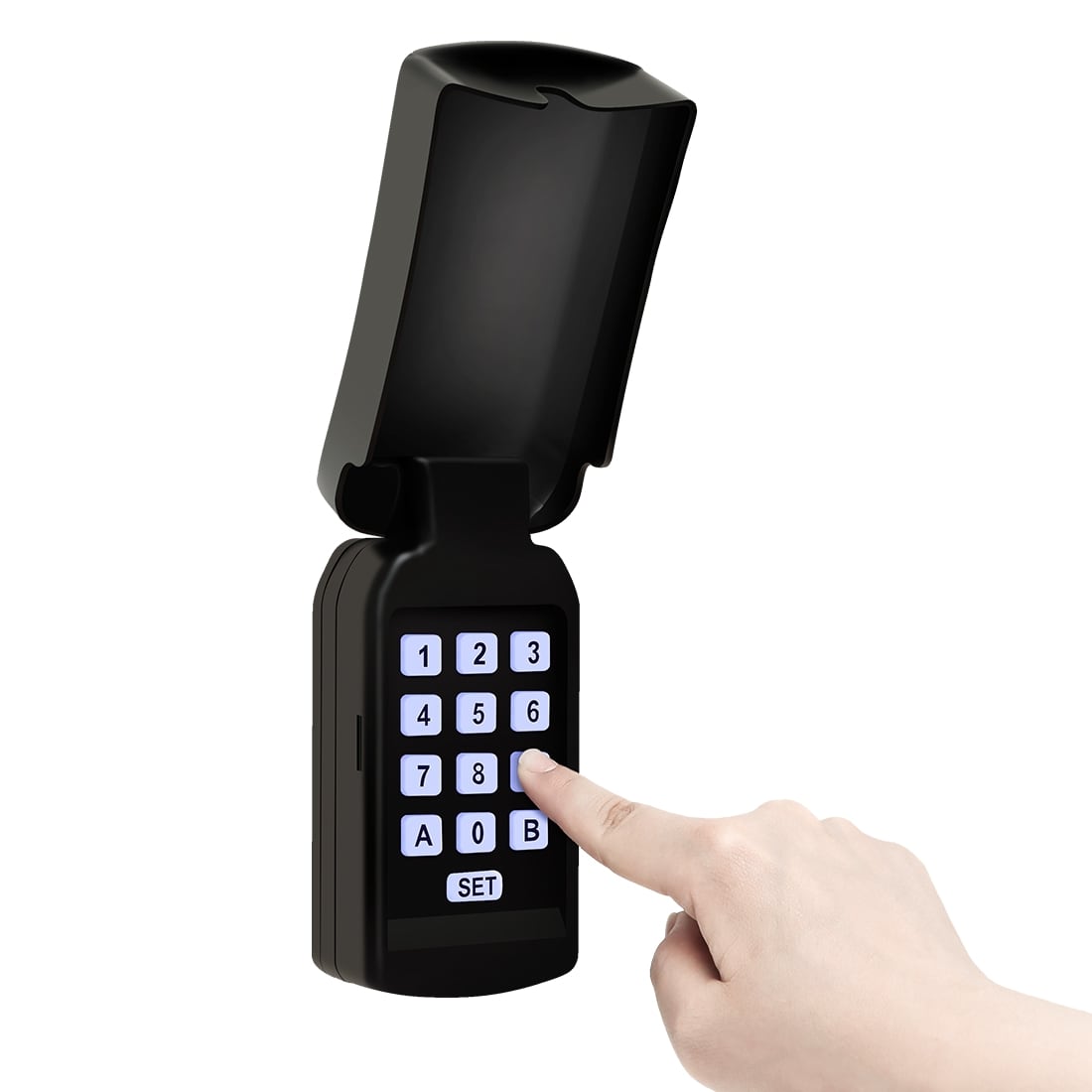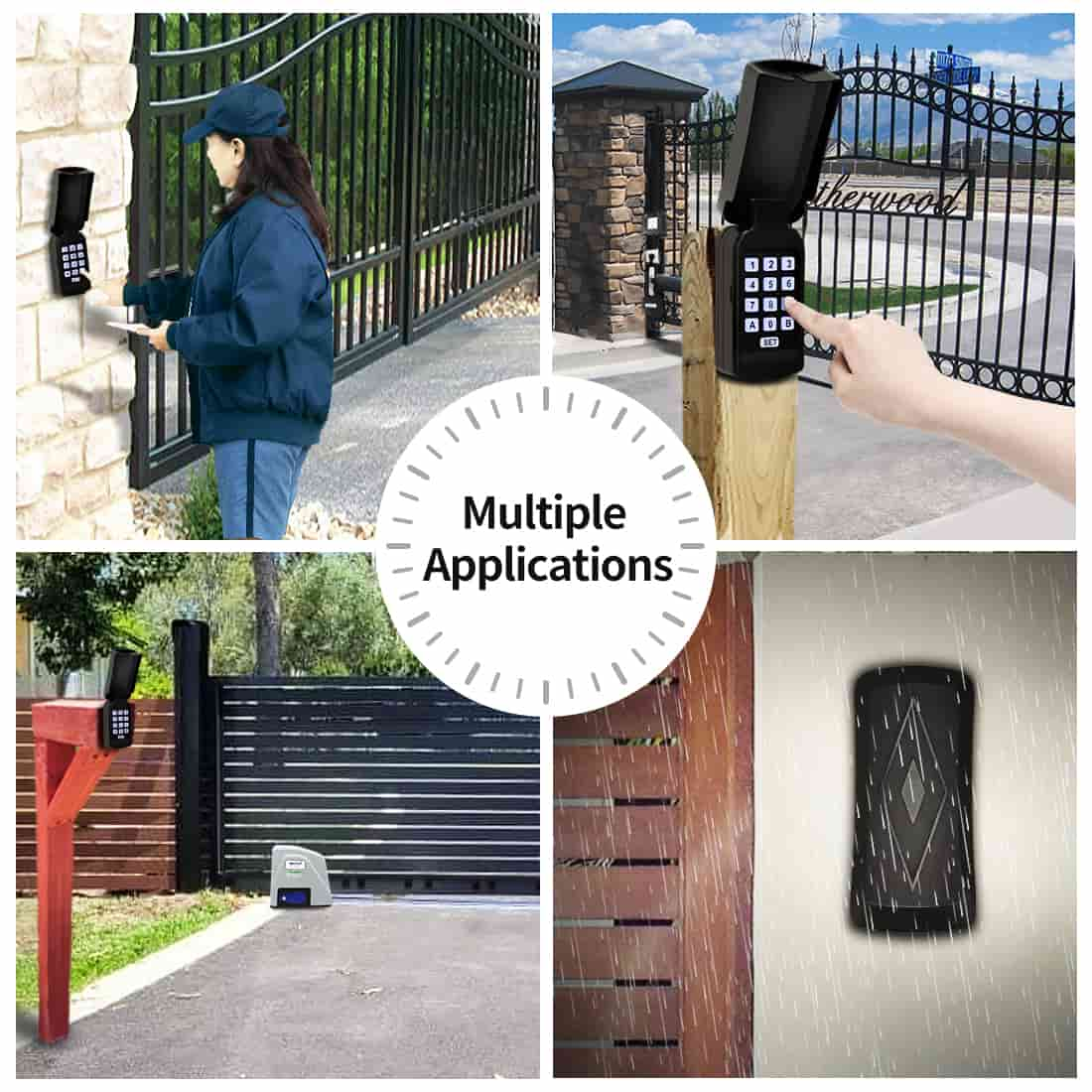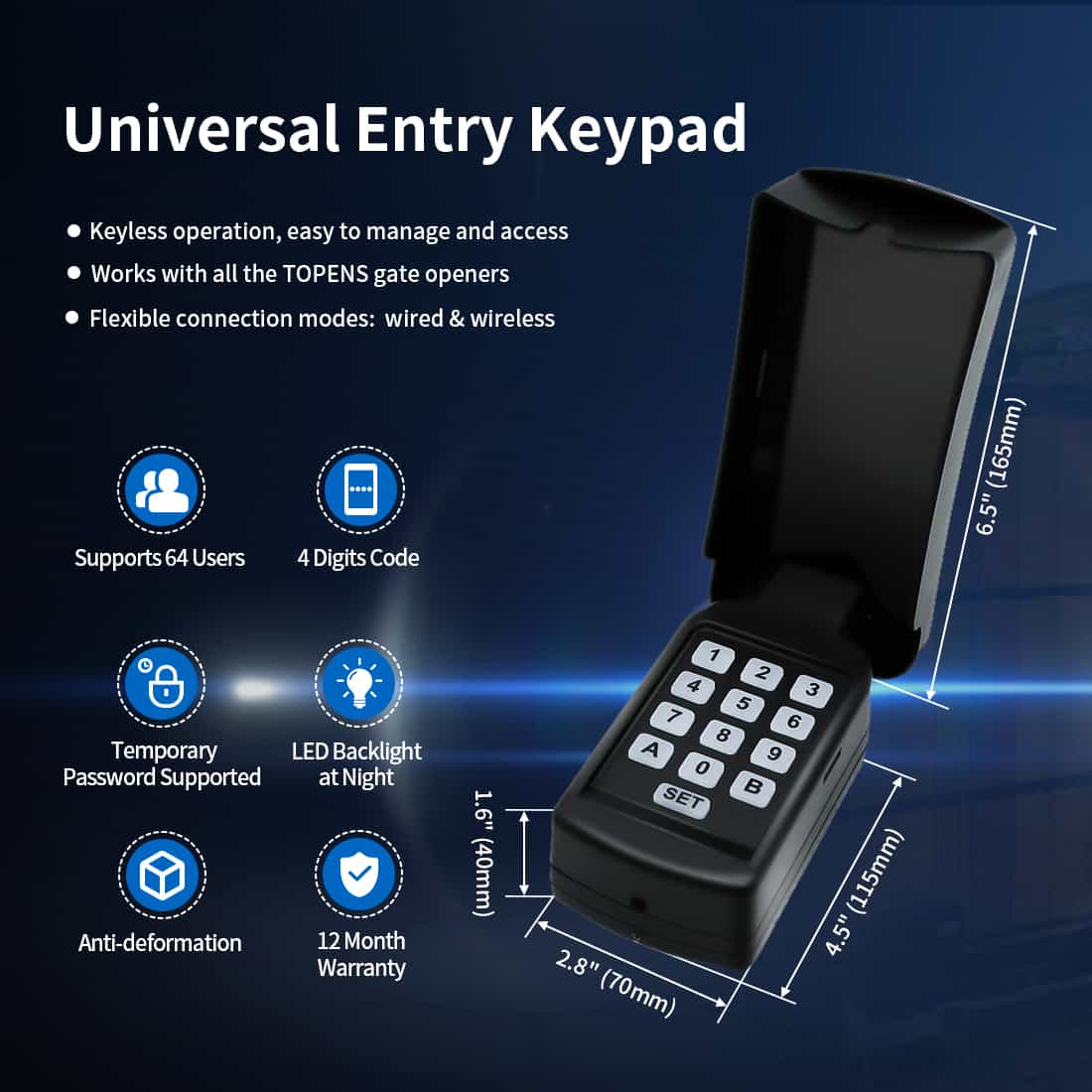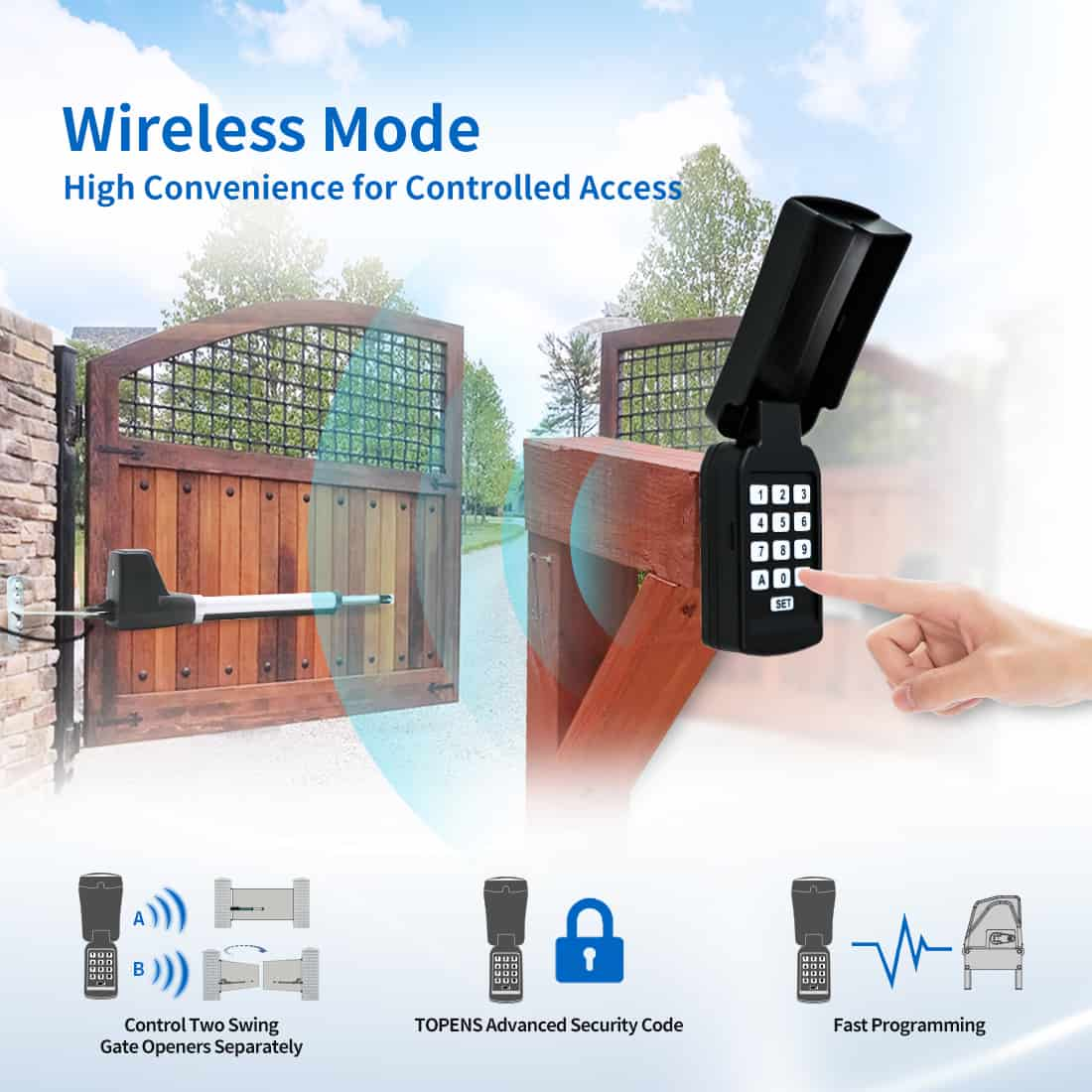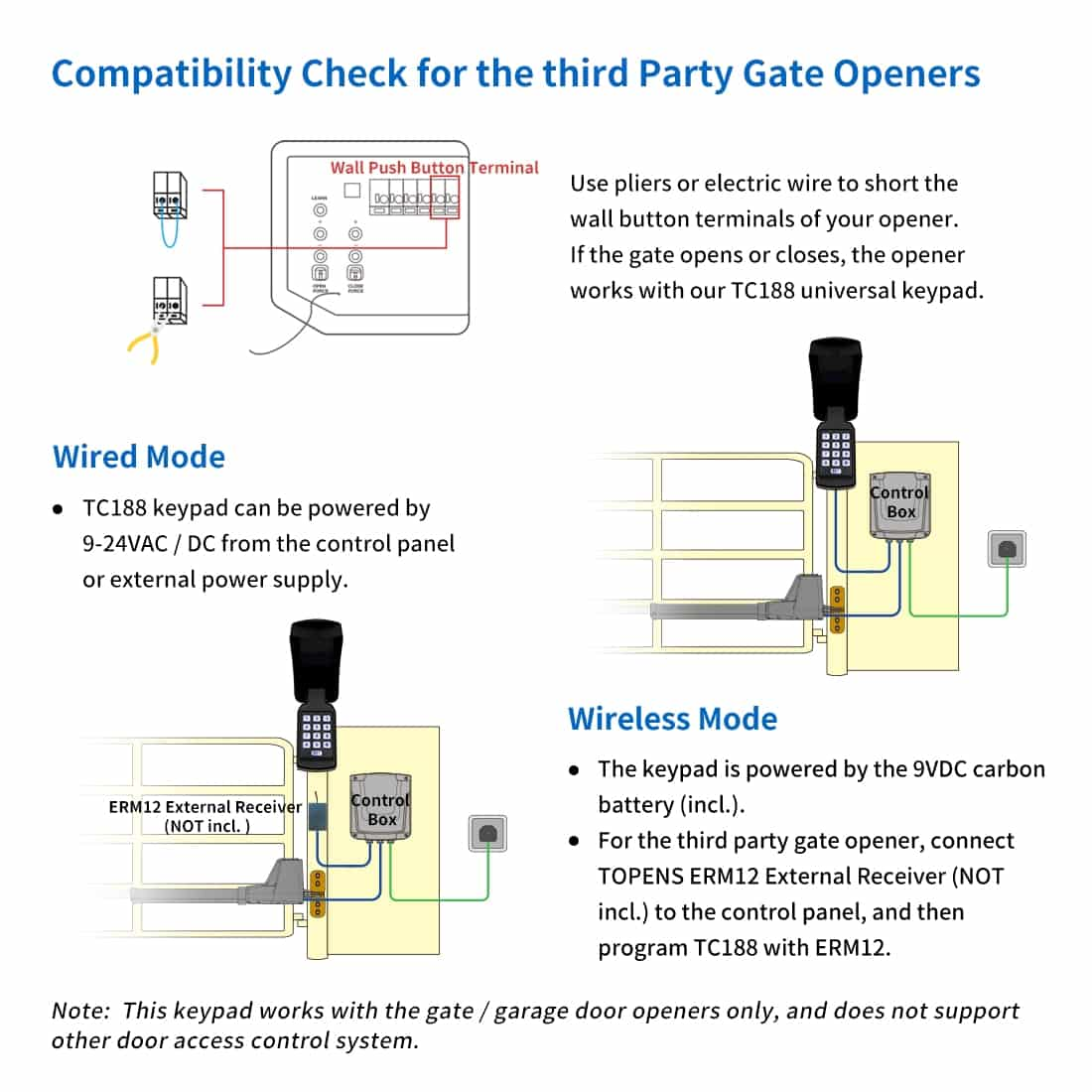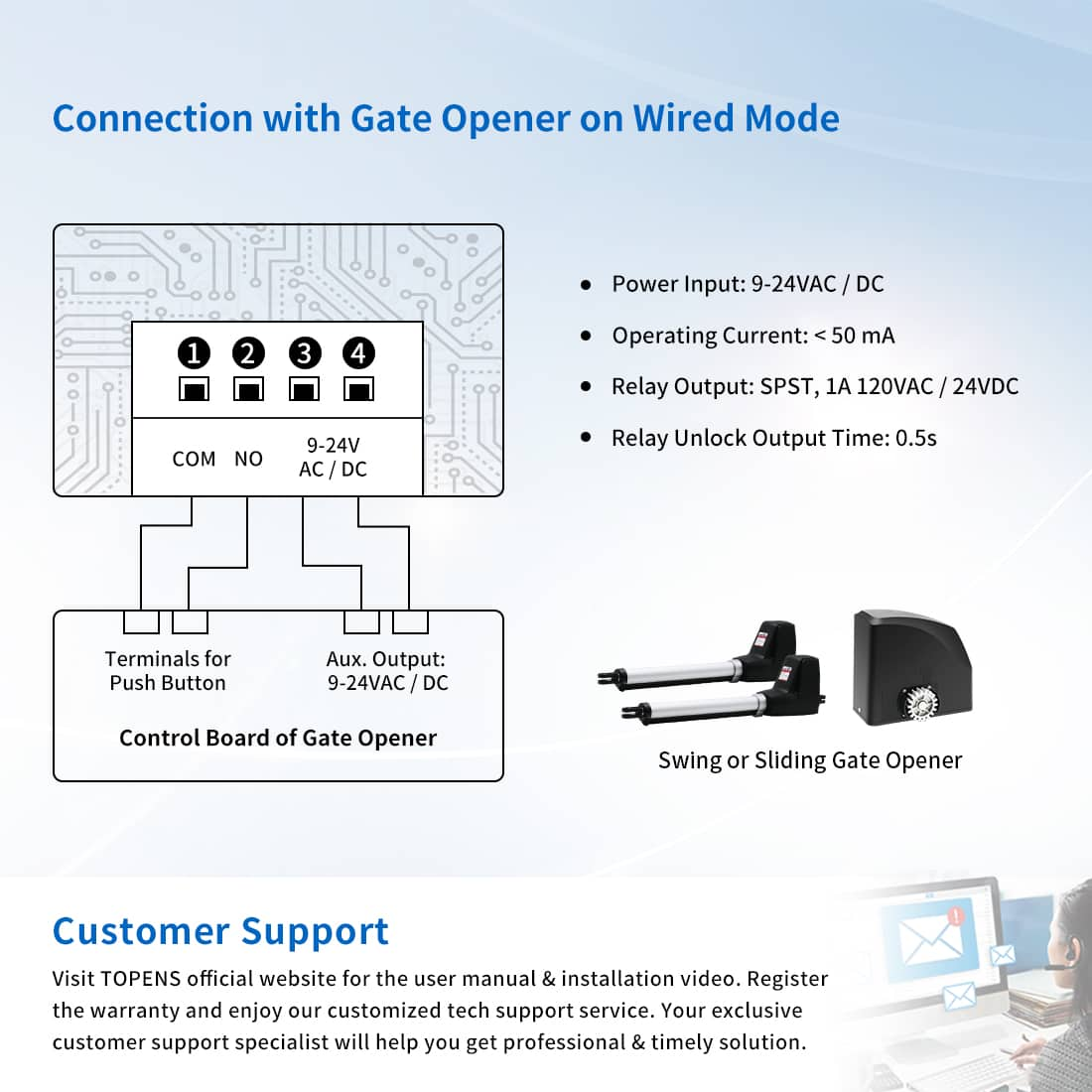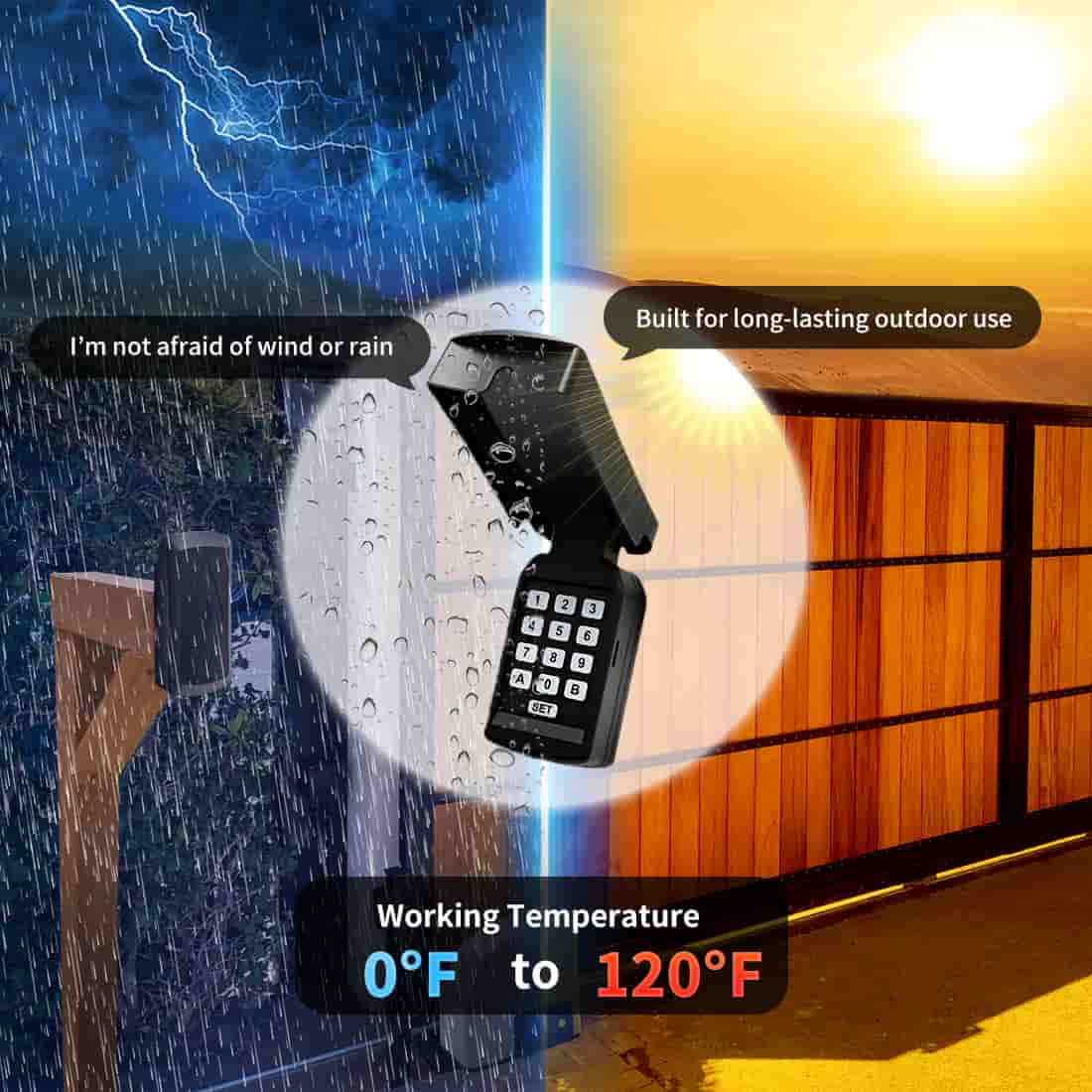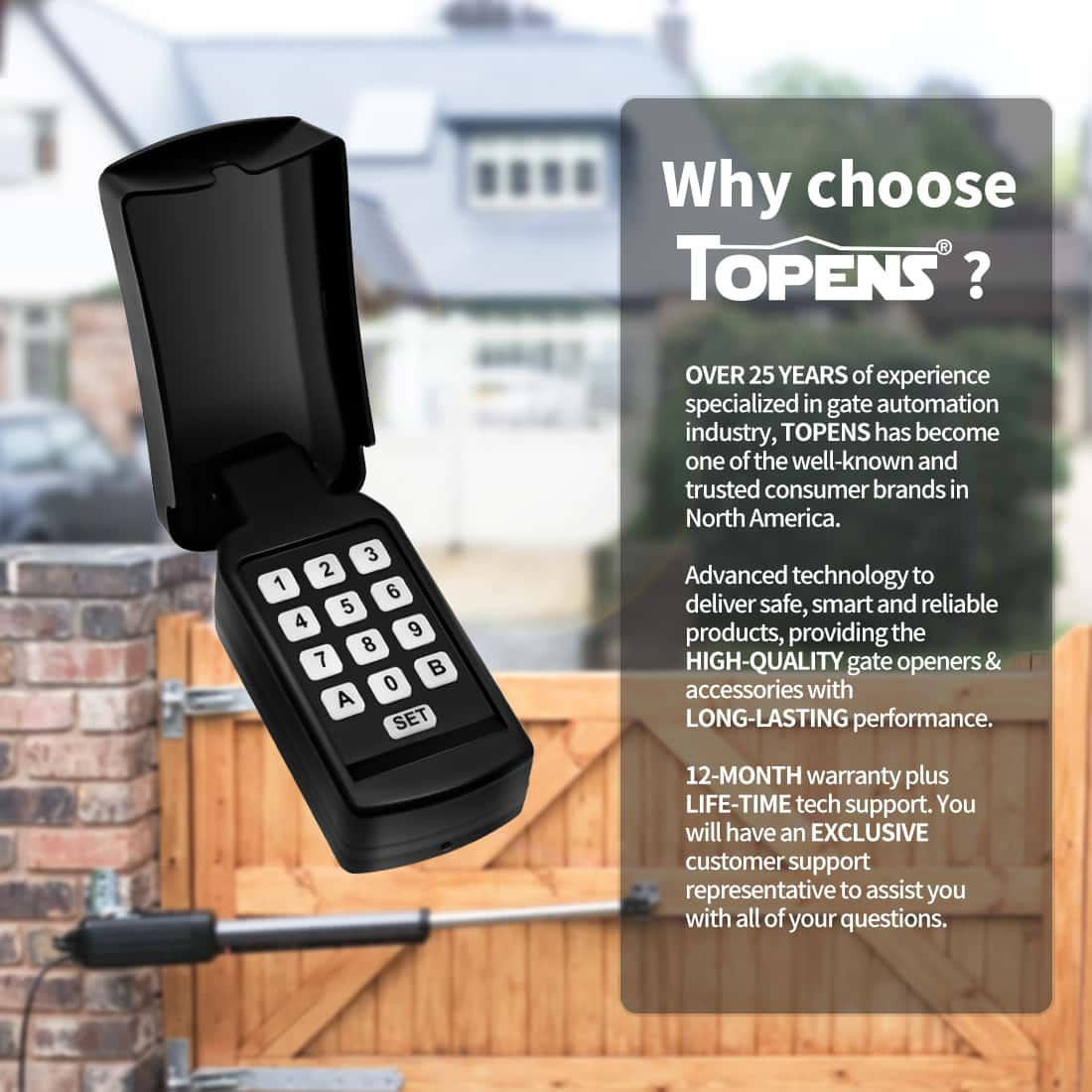 TC188 Universal Wireless Gate Opener Keypad
● TOPENS TC188 Universal Keypad is a smart access control keypad with advanced TOPENS code technology. Simply enter a short password to open the gate without carrying a key. The flexible connection modes of "wired & wireless" are for your selection. Designed as an ideal accessory for security, this numeric keypad greatly improves the experience of keyless operation. It brings high convenience for controlled access, making an easy way for guests to access your gate opener system.
● This keypad is suitable for the household, courtyard, farm, ranch, warehouse and other commercial / industrial sites. Weather-resistant for all seasons of the year. The LED backlight automatically illuminates the keypad under low-light conditions. Made of high-quality heat-resistant and durable anti-deformation materials, the device offers stable protection in bad weather conditions and provides a long-lasting performance. The battery lasts up to 2 years at 5 activations per day.
● Supports up to 64 individual sets of 4-digit access codes, including the temporary and permanent codes. Temporary password is easy to manage and programmed for the guests / deliveryman. You can add this TC188 Keypad on the entrance, exit, or both sides of your gate. Our advanced TOPENS code technology will prevent unwanted entry, ensuring multiple protection & safety. Additionally, this dual channel transmitter design will access two different openers separately.
● Works with all TOPENS gate openers, and compatible with most third party swing / sliding gate opener or garage door opener whose control board accepts "Normally Open Dry Contact" signal. TC188 can be powered by the 9VDC carbon battery (included in the package), or the control board of the gate opener, or by the external 9-24VAC/DC power source. Kindly note that this keypad works with the gate / garage door openers only, and does not support other door access control system.
● Free shipping within continental U.S. by 3-6 working days delivery. 30-day worry-free return & refund. Contact us anytime for any questions.
In stock
Great wireless keypad
Easy to install, wireless is fantastic, instructions are very straightforward to set up your codes, there are lots of ways to programme different codes, the keypad lights up when in use, great addition to your gate opener.
First time gate installer!
I threw away the instructions and try to short cut the process and screwed up the pad and locked it. EVEN so the support was so great they helped to reset, then program and now we are enjoying this great add on. It doesn't get any simpler than this.
Wireless keypad
Simple hook up with oil less than 5 minutes. Just follow directions.
Wireless Keypad
This was a great addition to our Topens gate opener kit. We installed it with the original package. The wireless operation avoided us having to dig the drive up and allowed us to put it exactly where we wanted it. Easy to program from the instructions and also from the you tube video. Accepts lots of codes and is easily reprogrammed, when needed. Great bit of kit, which has made our gate operation so much better. Highly recommended.
Extended Warranty
Comes with 12-month warranty basically. We also offer extended warranty plans: 2 years and 3 years options.
7/24 Customer Support
Our customer support representative will help you get professional, customized and timely solution.
Free Shipping
Free shipping within continental U.S. by 3-6 working days delivery.
30-day Free Trial
Get a free trial of our gate opener, TOPENS provides customers with the 30-day worry-free exchange & return.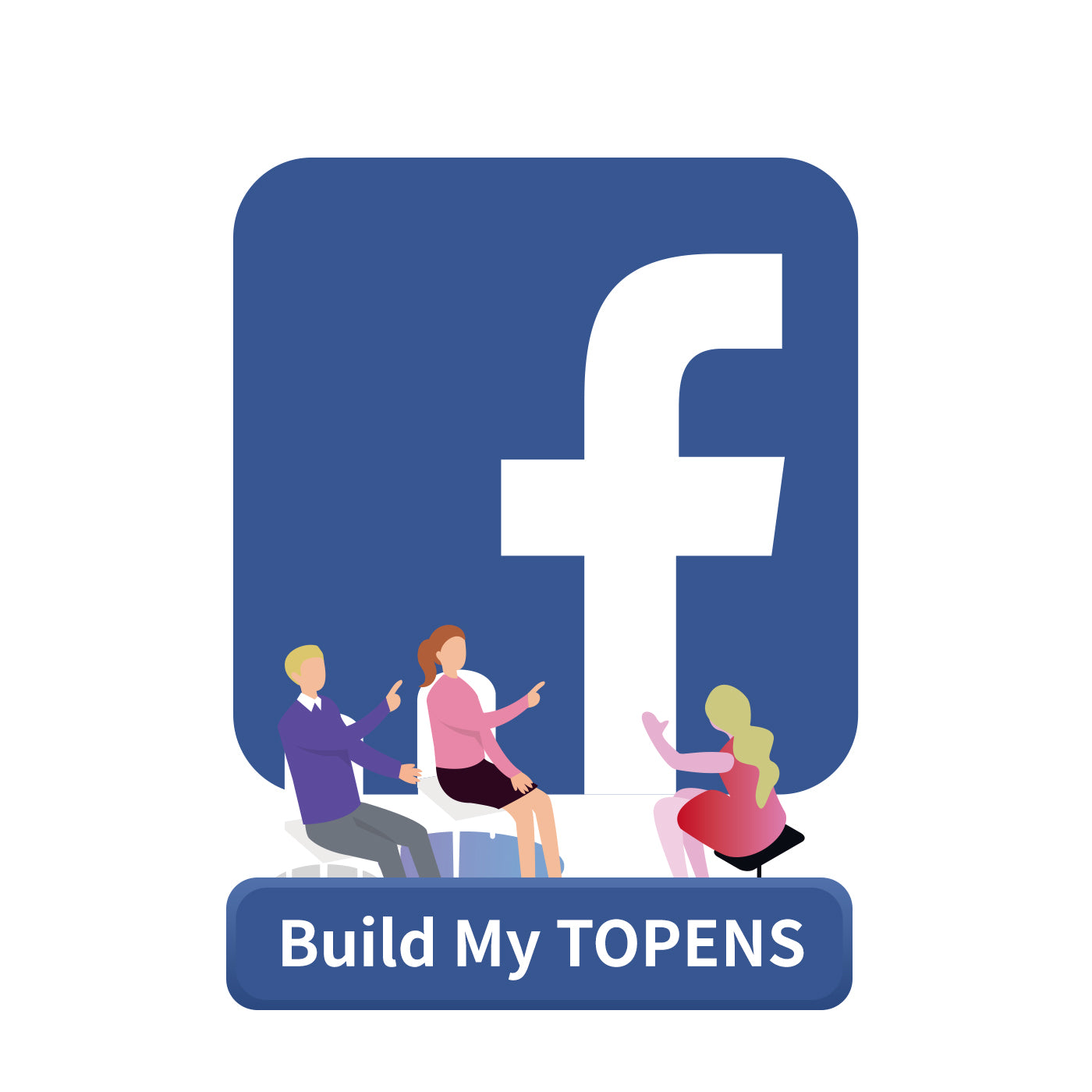 Facebook group
The group "Build My TOPENS" is a community for home DIY lovers to share thoughts, ideas, and stories.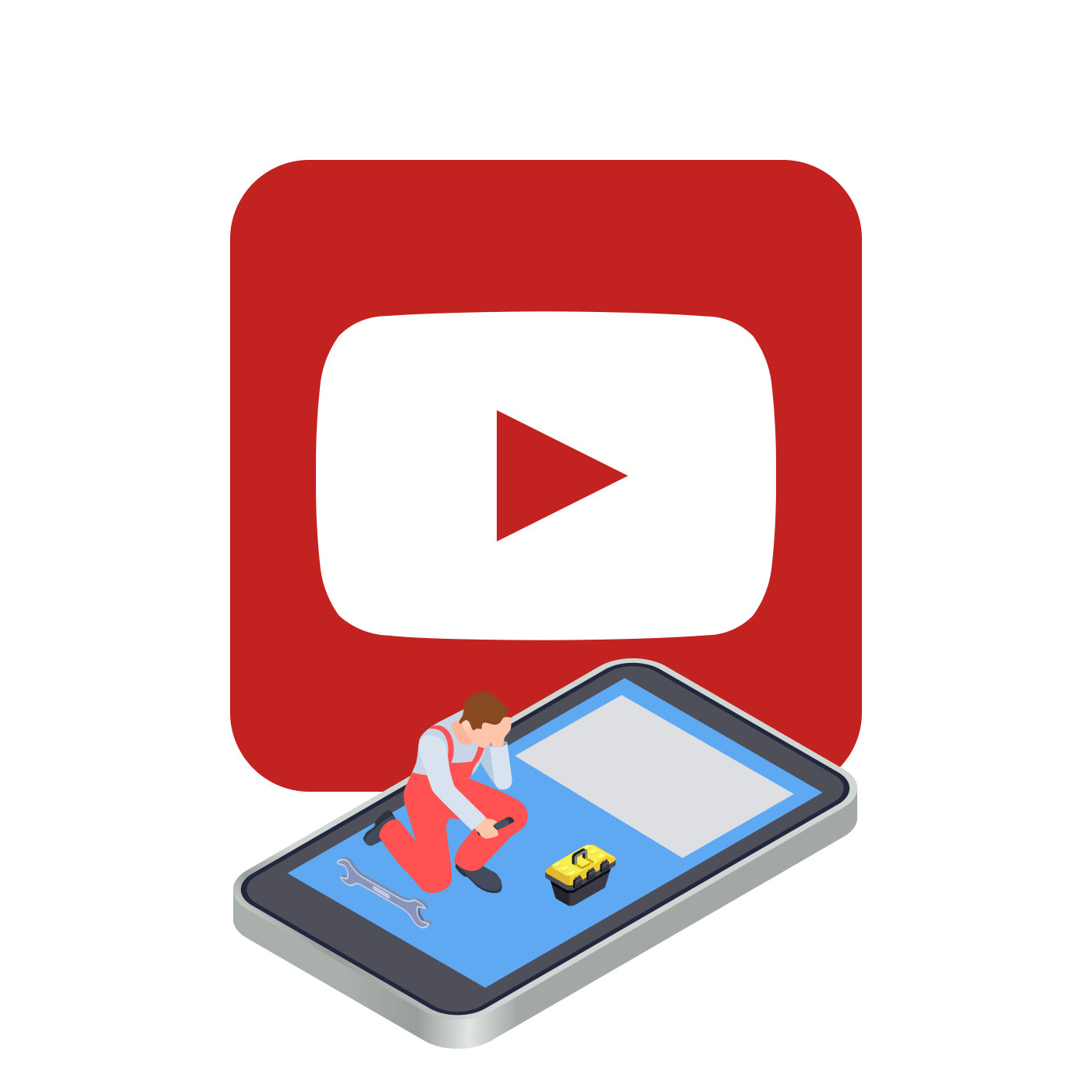 YouTube channel
Installation videos of TOPENS gate openers and accessories.
Stay up-to-date
Blog posts